Ready, Set ... Scentsy Go!
Discover our new portable fragrance system.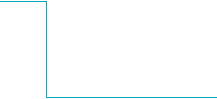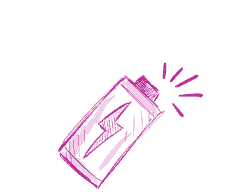 Battery Power
The rechargeable battery lasts up to 18 hours when used in Eco Mode with the LED lights on, and up to 40 hours in Eco Mode with the LED lights off.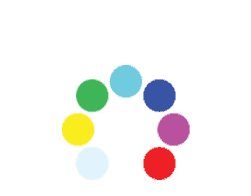 Colour & Light
Enjoy the full seven-colour LED light display, or adjust to pause on the colour of your choice.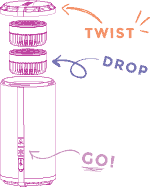 Simple Setup
Twist open the cover. Drop in 1-2 Scentsy Pods; 2 Pods increase fragrance strength for larger spaces. Close. Turn on.
Portable fragrance, no fuss!

Conveniently Cordless
Runs on a rechargeable battery, so no outlet needed. Goes where you go — no strings (or cords) attached.

Instantly Fragrant
An internal fan blows air through the Scentsy Pods, filling any small space with fragrance in seconds.

Amply Protected
Enjoy this exciting new product with peace of mind. Scentsy Go is backed by our limited lifetime warranty.
Scentsy Pods in your favourite fragrances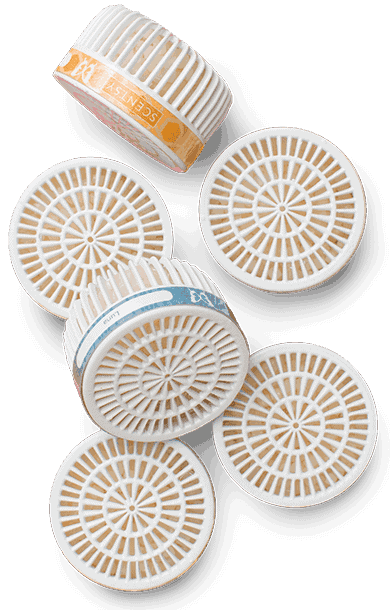 Scentsy Pods in your favourite fragrances
Filled with no-spill fragrance beads, each Scentsy Pod provides up to 120 hours of signature Scentsy aroma. Each pack includes two Pods of the same fragrance.
Set off on a rainforest romp swirling with sweet notes of melon, orange zest, coconut milk and sultry night-blooming jasmine.

Delicious, sun-sweetened DARK BERRIES warmed with VANILLA

Run away with fresh tropical notes, sweet citrus and lush botanicals.

Creamy, tropical COCONUT and sunny, bright LEMONGRASS.

Crisp greens, orange flowers, creamy violet and white wicker basket will let you savour the scent of just-washed laundry.

ALOE WATER, CUCUMBER PEEL, PALM FROND and PINEAPPLE NECTAR are oh-so-mellow.

Thick, rich NY CHEESECAKE with a light GRAHAM CRACKER crust and delicious.

Escape to a secluded retreat of dew-kissed LILY and tart-sweet KIWI, shaded by lush COCONUT PALM.

Juicy mango sliced with melon and berries, garnished with bright hibiscus and sweet banana flower.
Drift into dreamland with BABY FREESIA, LAVENDER and SWEET PEA.

White florals — JASMINE, SWEET PEA and freesia — juicy BERRIES and SANDALWOOD shimmer like moonlight.

Warm WHITE CEDAR, green VERBENA and citrusy BERGAMOT in a perfectly spiced, sensual fragrance.

You do you, while pink sea salt, Valencia orange and creamy avocado keep your spirit in flight.

A sweet confection of BERRIES, NECTARINES and vanilla-laced whipped cream nestled in MARSHMALLOW fondant.

Sweet cherries, velvety apricots, and sensual white musk crowned with a tiara of shimmering spun sugar.

Fruity blend of lemon drops and cotton candy.

Lively blend of oranges, lemons, limes and grapefruit.

Decadent BUTTERCREAM frosting made with the freshest butter whipped with cane sugar and VANILLA extract. So creamy and sweet you will have to lick the spoon!